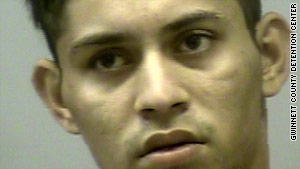 Peter Brimelow pointed out to me the case of Elvis Noe-Garcia, who is charged with killing his own children. He's referred to in the press as a "Georgia Man." The only thing that relates him to a normal Georgia man is that his name's Elvis:
"Elvis Noe-Garcia had multiple stab wounds when he first talked with police in the town of Lawrenceville in Atlanta's northern suburbs, after they found his 1-year-old and 3-year-old sons fatally stabbed inside their home. Another 3-year-old son was sent to an area hospital after being injured, according to a statement Saturday from the Gwinnett County Police Department. CNN affiliate WSB reported family members said the 3-year-olds are twins."[Georgia man charged with sons' murder after accusing another, By the CNN Wire Staff, February 13, 2011]
For the record, we refer to this as "Immigrant Familicide" rather than "Immigrant Mass Murder".
It's reported that Mr Noe-Garcia, estranged from the mother of his illegitimate children, didn't want them raised by another man, who is accused of being a drug dealer. Both the father accused of murdering his children and the accused drug dealer have immigration holds against them, which means that neither is really a "Georgia Man." Perhaps it should be "Salvadoran Man"—who knows?
Googling around to find out more about this "Georgia Man," I found an earlier case, that of a man who's not named Elvis at all—Chaudhry Rashid, a Pakistani who's a suspect in an honor killing.
Mr. Rashid is suspected of killing his daughter to preserve the family honor, an act not characteristic of actual "Georgia Men"—in the old stories about shotgun weddings, the shotgun was pointed at the prospective (if he knew what was good for him) son-in-law.
This custom has died out—who wants Levi Johnston for a son-in-law? But the custom of killing your daughter if she misbehaves is regrettably common among Pakistanis.
Police Say Georgia Man Killed Own Daughter to Protect Family Honor, July 08, 2008
I can't find much more about Rashid. I'll just point out that WikiPedia deleted the article on him. The reasons given were that it wasn't notable enough—because of the lack of mainstream media coverage. Also I'll note that other stories about Mr. Rashid called him Georgia Dad and Jonesboro Man.