That anti-enforcement organizations funded by the Soros family have been pouring often decisive amounts of money into previously obscure county-level races for district attorney used to be considered news, but now is considered an unmentionable anti-Semitic conspiracy theory.
For example, from way back in 2018, here is a long Los Angeles Times news story on the Soros efforts that was funded and written, in part, by a Soros-funded group: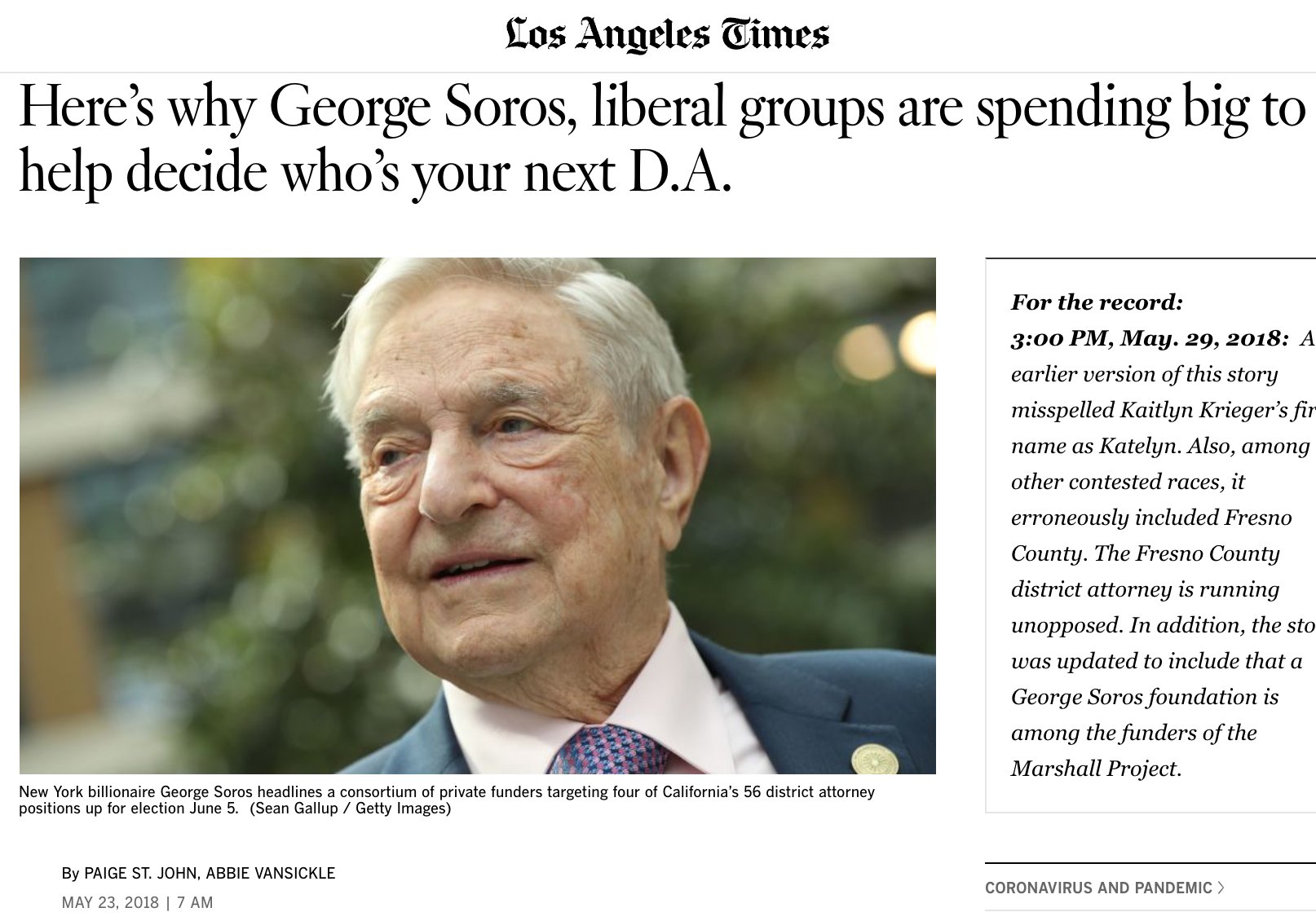 Here's why George Soros, liberal groups are spending big to help decide who's your next D.A.

New York billionaire George Soros headlines a consortium of private funders targeting four of California's 56 district attorney positions up for election June 5.

By PAIGE ST. JOHN, ABBIE VANSICKLE
MAY 23, 2018 AM

In most district attorney elections, the campaign playbook is clear: Win over the local cops and talk tough on crime.

But in California this year, the strategy is being turned on its head.

Wealthy donors are spending millions of dollars to back would-be prosecutors who want to reduce incarceration, crack down on police misconduct and revamp a bail system they contend unfairly imprisons poor people before trial.

The effort is part of a years-long campaign by liberal groups to reshape the nation's criminal justice system. New York billionaire George Soros headlines a consortium of private funders, the American Civil Liberties Union and other social justice groups and Democratic activists targeting four of the 56 district attorney positions up for election on June 5. Five other California candidates are receiving lesser support.

The cash infusion in the nonpartisan elections turns underdog challengers into contenders for one of the most powerful positions in local justice systems, roiling conventional law-and-order politics.

In San Diego County, the groups back a deputy public defender who spent her legal career trying to keep the accused out of jail, not lock them up. …

The challengers have matched or surpassed the millions of dollars — mostly from police, prosecutors and local business — flowing to incumbents unaccustomed to such organized liberal opposition.

But the coordination between big money and advocacy groups that don't have to reveal their funding sources is largely out of public view.

The campaign has alarmed some law-and-order prosecutors, who warn that discretion over which laws to enforce and how has its limits.

"These people who want to create their own social policy are not worthy of the office," said former Los Angeles County Dist. Atty. Steve Cooley. "If they win in San Diego or Sacramento, L.A. is next."
As indeed it is in the November 2020 runoff in Los Angeles Country between the anti-crime incumbent, a black woman named Jackie Lacey, and the Steve Martin-looking George Gascon funded by the Soros alliance.
… Where law-and-order campaigns appeal to fear, the new strategy targets anger.

One issue that has caught fire is police shootings.

"It's really coming from this Black Lives Matter moment of police accountability," said Margaret Dooley-Sammuli, criminal justice and drug policy director for the ACLU of California. …

In Sacramento County, where liberal activists are embedded directly in the insurgent campaign of Noah Phillips, the deputy prosecutor is attacking his boss' record of having never charged a police officer who shot a civilian.

Phillips credits Soros' team for scripting and paying for his television ad.

… At the same time, Black Lives Matter activists were holding near-daily protests on the doorstep of Phillips' opponent, career prosecutor Anne Marie Schubert.

… Half of Phillips' money is from Soros.

… In San Diego, the county's limit of $800 for individual contributions forces campaigners to work independently of their favored candidate, Geneviéve Jones-Wright.

Soros has supplied more than $1.5 million to a political action committee to promote the deputy public defender waging a longshot bid for D.A. National liberal organizations have joined the fight for Jones-Wright, as have wealthy Silicon Valley donors. …

Jones-Wright rejects descriptions of her funding as an outside threat by groups trying to buy a national agenda, one county at a time. Soros' money, she said, gives a voice to poor and minority communities often ignored in prosecutor races.

"I love it!" she told lawyers at a recent fundraiser. "If he didn't take an interest in this campaign, it would be an even more uneven playing field."

Alameda County Dist. Atty. Nancy O'Malley has expressed surprise that she's a Soros target. The registered Democrat showcases endorsements not only from police leaders but also Sen. Kamala Harris (D-Calif.), organized labor and Democratic clubs.

Her opponent, civil rights lawyer Pamela Price, criticizes O'Malley's ties with law enforcement, including political donations from police unions. Mailers sent by Soros' PAC condemn "racist" stop-and-frisk policies and promise Price would end them. …

Soros, whose spending as of this week in California topped $2.7 million, is the most visible part of the national movement to sway county prosecutor races. Since 2014, he has spent more than $16 million in 17 county races in other states. His favored candidates won in 13.
One of them, Philadelphia Dist. Atty. Larry Krasner, fired 31 prosecutors during his first week on the job in January. Calling for an end to "mass incarceration," Krasner also ordered the rest of his office to stop prosecuting marijuana possession, steer more defendants toward diversion programs and announce at sentencing hearings how much a prison term would cost taxpayers.

After her 2016 victory in Houston, Kim Ogg announced she would no longer prosecute the possession of small amounts of marijuana. In Chicago, the Soros-backed candidate stopped filing felony theft charges for property worth less than $1,000.

The changes have outraged police and prosecutor associations. The head of the union for Los Angeles County prosecutors recently issued a statewide call for donations to counter Soros' money in San Diego.

Michele Hanisee, the group's president, said Soros and the ACLU call on prosecutors to "pick and choose" which laws they enforce.

… Many of those activities don't show up in campaign finance reports. Federal tax laws allow nonprofit advocacy groups to hide the source of their money and to disclose summaries of their spending years after the fact. It will be 2020 before Californians will be able to see the full scale of the involvement in June's elections.

But tax forms, grant documents and interviews by The Times and the Marshall Project show that a coalition of wealthy donors, private foundations and advocacy groups by last year had sunk $11 million into grants focused on district attorney elections across the nation. At the top is the Open Philanthropy Project, a foundation started by Moskovitz and Tuna, that from 2014 to 2017 directed $6.6 million toward "prosecutorial reform" or similar terms.
The Open Philanthropy Project of Facebook friend-of-Mark Dustin Moskowitz and his wife is, apparently, not legally related to Soros's famous Open Society Foundation, but they seem to be on the same page a lot of the time, as you would expect from their similarity of names.
Major grant recipients include the ACLU. The group's projects include national polling last year measuring voter interest in the county races, and score cards helping promote the liberal platforms of candidates in Texas and California. Soros gave $50 million to the ACLU in 2014 for work on criminal justice issues, though it's unclear how much, if any, was earmarked for the prosecutor campaigns.

… In July, a similar group, the Tides Foundation, hosted campaign directors for Soros and the ACLU and racial-justice activists from Color of Change to talk about steering nonprofit money toward the cause. …

The 2016 election in Illinois of Kim Foxx as Cook County state's attorney illustrated the power of combining national money and local field teams.

… Soros joined the fight. So did Color of Change, Move On and Democracy for America — national organizations also engaged in the California races. …

Foxx won in a landslide, becoming Cook County's first black state's attorney.
Foxx, of course, was the DA who dismissed charges against hate hoaxer Jussie Smollett.
…But other candidates have fallen short. Targeted incumbents in Arizona and Colorado survived challenges despite Soros' heavily funding their opponents.

"We knew that George Soros couldn't find Jefferson County on a map," said Peter Weir, who heads the district attorney's office in the suburbs west of Denver. "Justice was not for sale in Jefferson County."

This story was published in partnership with the Marshall Project, a nonprofit news organization covering the U.S. criminal justice system. Sign up for their newsletter, or follow the Marshall Project on Facebook or Twitter.

The Marshall Project receives funding from the George Soros-funded Open Society Foundations and other organizations that support efforts to reform the state's criminal justice system. Under terms of its funding, the Marshall Project has sole editorial control of its news reporting.
So that was the liberal, respectable Los Angeles Times just 2 years ago.
But now you should never mention the name George Soros.
Or you might attract the Eye of Soros.
And you wouldn't want that to happen, now would you?
Also:
Open Society's History Fighting for Racial Justice in the United States
RACIAL JUSTICE MATTERS
JULY 13, 2020

Racial justice has always been central to the work and mission of the Open Society Foundations.

In the mid-1990s, after spending years working to reform U.S. drug policies that unfairly target Black Americans, George Soros and the Open Society Foundations expanded their racial justice ambitions in the United States by investing in the movement against systemic racism—from ending the drug war to reforming systems of education and criminal justice to securing the right to vote.

Now, in 2020, and in response to the unprecedented wave of activism and organizing for racial justice that's spread across the world in the wake of the killing of George Floyd, Open Society is investing $220 million to build power in Black communities, promote bold new anti-racist policies in U.S. cities, and help first-time activists stay engaged. …

1998: Focusing on Black Americans in Baltimore
The Foundations launched the Open Society Institute–Baltimore—an innovative effort to address three intertwined problems affecting the city's Black population: drug policy, high incarceration rates, and obstacles that impede Black youth in succeeding both in and outside of the classroom. To date, Open Society has invested over $113 million in Baltimore.
And that's why, two decades later, Baltimore is an annual contender for the prestigious Murder Capital of America title.
… 2011: Fighting Stop and Frisk
Open Society helped develop Communities United for Police Reform, a New York City-based campaign to challenge—and substantially reduce—the police department's racially discriminatory stop and frisk practices.

2014: Accelerating the End of Mass Incarceration
The Open Society Foundations gave a grant of $50 million to the ACLU to advance its efforts to reduce mass incarceration nationwide.

… 2020: Building Black Power
Open Society announced investments of $220 million to build power in Black communities, promote bold new anti-racist policies in U.S. cities, and help first-time activists stay engaged.

A woman sings while surrounded by fellow activists
LaTosha Brown, one of the cofounders of Black Voters Matter, sings during an event bringing together several grassroots organizations, in Greenville, Mississippi, on August 24, 2018. © Rogelio V. Solis/AP
Personally, my view of George Soros is, that while I disagree with him on much, he is a great man, a worthy foe. Sadly, he is now 90 and it is unlikely he has the strength of will and intellect anymore to change his mind and clean house among his underlings.